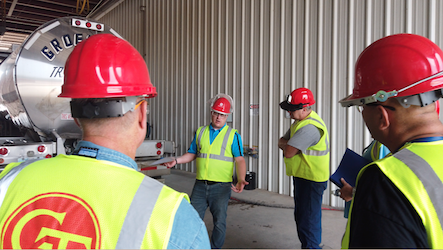 At Groendyke Transport, we believe in nurturing and encouraging the success and development of our people. Groendyke Transport doesn't just offer jobs, we offer fulfilling careers filled with rewarding opportunities and the tools to take advantage of them. That's why we invest heavily in our training department.
Orientation
Each new driver, and all other employees, spend their first week in orientation at one of our Regional Training Hubs. We keep these class sizes to fewer than 10 people as we go through in-depth virtual and video-based training. Our drivers also go through comprehensive hands-on training and benefit from hands-on simulations of real-world scenarios, including emergency scenarios, using actual equipment.
Driver Training
After completing orientation, all new drivers get the advantage of on-the-job training with one of our certified driving instructors. These professionals represent our most elite drivers. They work with new drivers on Groendyke's exacting processes and procedures to ensure consistency throughout our fleet. Driver Instructors also act as mentors for new drivers after their training period has completed.
Ongoing Training
Groendyke's training department has an extensive catalog of trainings, including refresher curriculum, to make sure all our drivers and people in general stay current on all our procedures, processes, driving and operation techniques and equipment.
Training Structure
Groendyke has a team of training professionals at our corporate office in Enid, Okla. In the field, we have Regional Training Hubs staffed by Safety Training Professionals and a team of Certified Driving Instructors companywide to ensure each new driver gets the attention they deserve. Terminal staff assists in ensuring refresher and other trainings are completed as needed.